Stock car and Banger racing has been around for many decades and is a European car sport in which drivers will race around a track in various types of cars. There are many classes of stock car racing, from mini stocks to Nascars and much more. As a local company, we have been a part of the industry for many years at Warton Stock Car Club. Find out more as we explore the club and the importance of scrap metal within the industry.
What Is Warton Stock Car Club?
Warton Stock Car Club is the only racing circuit locally that allows for racing various cars, such as stock cars, bangers and mini stocks. It is the only short oval track in the northwest and is visited by thousands of visitors each week. The club has been a staple of Warton village for 50 years, and track days have become a lifestyle for many generations of racers.
There are various events annually, usually falling on a Sunday. Some of these events are themed in memory of past racers, others in the name of charity. Racers will sign up each week to participate and race around the small track to be the winner (or the last car standing in many races). There are various classes and categories of racers, starting from age 11 for the junior rookies, and it offers an exciting day out for all the family. One of the most popular days is the Caravan Carnage event. Banger cars will line up with decorative caravans attached, and the vehicle able to complete all the laps with their caravans still attached wins. Unfortunately, it usually ends with few cars still functioning and the track littered with broken caravan parts.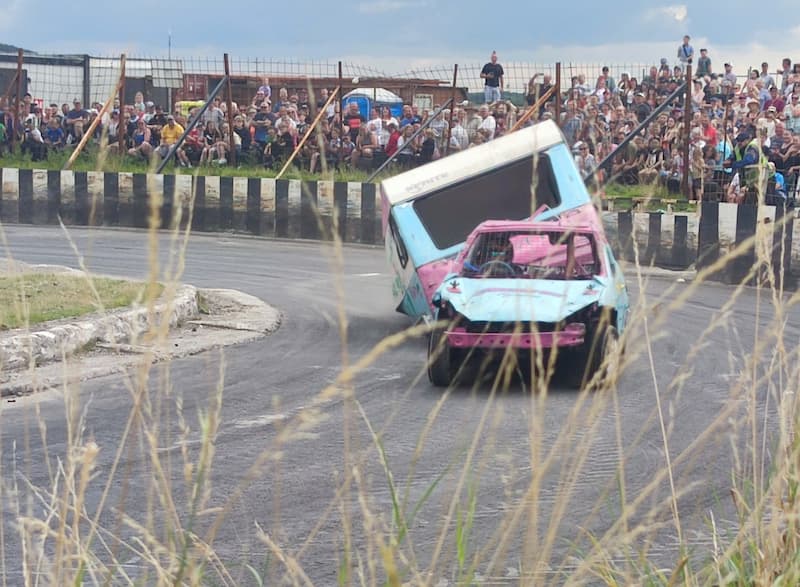 There are strict driver and visitor safety rules, with hundreds of drivers taking part each year, and aside from the stock cars, which are built specifically, the race cars are modified scrap cars. The cars are stripped back of all the fixtures and fittings, including glass and non-essential wiring and constructed with safety features such as roll cages and harnesses.
Morecambe Metals Input at Warton Stock Car Club
For many years, Morecambe Metals has been present at WSCC. We regularly sponsor a team of racers and have even sponsored events. As a scrap metal processing facility, we also provide skips for the scrap metal to recover it for recycling and assist in producing recycled metal, which benefits many industries with new materials within construction and manufacturing.
Warton Stock Car Club hold meetings most Sundays from March, with the annual fixtures available on their website. The club offers an exciting day out for all, with trackside parking, tuck shops and many food vans to grab a bite to eat. So, if you're looking for a memorable day out for the family, why not plan a visit this year and cheer on our incredible drivers?
How Scrap Metal Plays a Part in Stock Car Racing
Each racer must find a suitable car to be able to take part in the races. Each class of race requires specific makes and models of cars, and modifications must be made for the safety of the driver and other racers. To comply with these regulations, racers will often use cars which have reached the end of their life, and the modifications are made from metal sourced from scrap metal recycling facilities.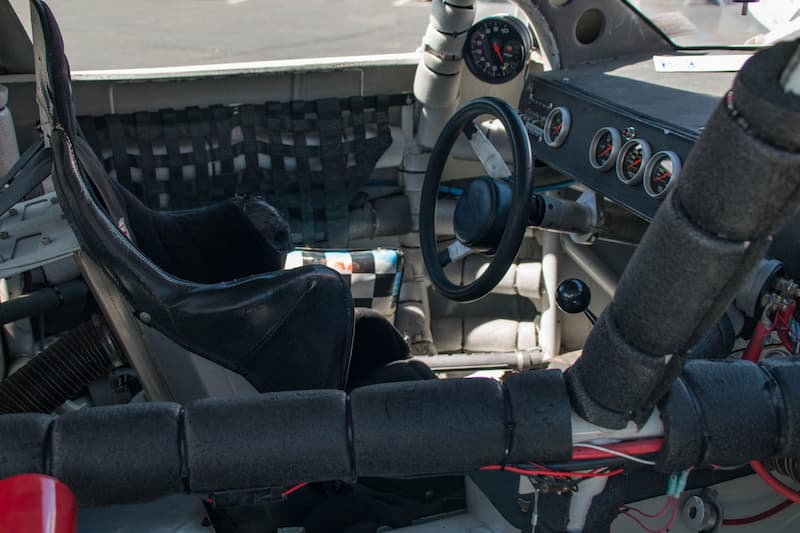 At the Warton Stock Car Club track, there is a large skip of metal, including car parts that have been damaged, which are then used to fix broken cars, melted down to assist with the welding, or sent for recycling. Scrap metal is essential to many banger racing tracks nationwide and is a great way to use cars that may no longer be fit for road usage. Even when the cars are no longer fit for racing, they are sent to recycling facilities such as ours to be broken down and recycled efficiently. This helps to produce new materials for manufacture across various industries and reduces the need for mining for raw materials, a process that significantly impacts the environment.
The Importance of Scrapping Cars
On average, a typical domestic car contains various recyclable metals such as steel. These metals are 100% recyclable and are processed through our ferrous metal recycling to produce recycled steel, which makes up nearly 40% of the steel used worldwide. Steel has many helpful properties and is an important material in manufacturing with many uses, so ensuring this is recycled can reduce the impact industries have on the environment. So, unless you are a part of the car racing industry, when your car reaches the end of its life, make sure you are helping the environment by using scrap metal recycling facilities which will take care of the vehicle in a sustainable manner.
Scrapping your car has many benefits, the more metal we can recover from vehicles, the more recycled new material we can produce, increasing the availability of the metal, which can help lower the cost worldwide. In addition, if the metal used to manufacture a product costs less, this saving is eventually passed onto the consumer. This can help reduce the costs of various items such as cans, bikes, etc.
Scrapping cars can also help to reduce greenhouse emissions. A vehicle which is not working to its total capacity could be producing harmful toxins into the atmosphere, by scrapping your car and upgrading to a new one can reduce the impact of greenhouse gases. In addition, recycling the metal can use up to 92% less energy than using raw materials, benefiting the environment and further reducing harmful greenhouse gases.
Scrap Your Car with Morecambe Metals
Whether you make regular costly maintenance repairs or the repairs cost more than the car is worth, it may be an excellent time to consider using our services, such as our scrap my car in Morecambe facilities. When a vehicle reaches the point where it is unfit for the road, it is essential to ensure that they are disposed of correctly with a responsible facility.
When you want to scrap your car, your service includes the removal of tyres, the battery, catalysts, fuel and all other vehicle fluids, so they can either be reused, recycled or disposed of correctly. We are committed to ensuring each vehicle we scrap is dealt with thoroughly. Any car we receive at Morecambe Metals will be de-registered, and a Certificate of Destruction will be issued. So, for more information or a quote for your vehicle, get in touch today.