The team here at Morecambe Metals aren't strangers to a little bit of success, and we are proud to announce that in the last annum we have a fantastic piece of news to share with our customers!
We have only gone and conquered the world of scrap metal and have managed to buy and process the largest amount that we have ever accomplished!
We bought and processed over a whopping 50,000 tonnes of scrap metal, which is 32% more than the year before.
In the past three years the scrap metal recycling business has been many things – but on the top of the list is the word 'challenging', mainly due to a decrease in commodity prices because of global and economic factors.
With this recent dip in the industry, we are proud to reveal the figures in a fun and informative infographic! Can you believe it? Because the Morecambe Metals team can't…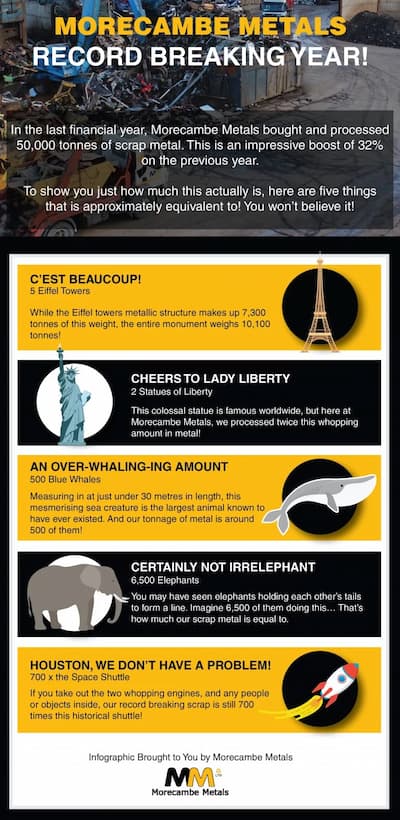 The team at Morecambe Metals are aware of the competitiveness of the industry, which is a constant. However, we believe that by staying true to our core values, keeping to our methods and continuing to strive in the industry we can continue our further success into 2018 and beyond.
Our tonnage is currently up 32%, our customer base up by 27%, sales up by 63% and our net profit up by a huge 152%, and we don't want this to slow down anytime soon.
Once again, a huge thank you to everyone who helped us get here.